History of Bidhan
New Update: Bidhan Now has a brand new Computer Center!!! Sougta Nag Chowdhury of 1991 batch is now the faculty of the department. Thanks to Deb Sir and his team for making this happen! Our respects and good wishes to the Bidhan family for this!

Bidhan Chandra Institution is one of the premier educational Institutions in the picturesque Steel Town of Durgapur. Established in 1976, this abode of education has imparted education to thousands of students. As an educational establishment, Bidhan Chandra Institution is proud to have nourished, and educated some of the best students, Durgapur has ever produced and that is very evident when one looks at the impressive tally of position holders in Higher Secondary Examinations and a number of other competetive examinations, both at the state level and at the national level.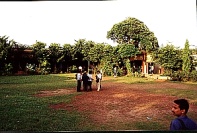 Bidhan Chandra Institution is located on C.V Raman Avenue, in the beautiful city of Durgapur. It provides education to students of XI th and XII th standard students. The very best of the area are chosen, and with the huge spectrum of talented, highly educated and sincere teachers, predictably the results are proof. Today, many Bidhanians have conquered their ambitions, and are leading successful professional lives, and most of them cannot forget the golden days of Bidhan.
Today, Bidhan Ch. Insttn is celebrating its 25th anniversary. The programmes to commemorate this year starts in November 2000 and wil continue for a while. All students, ex-students, teachers and ex-teachers and their families are cordially invited to attend. Please contact Bidhan Ch. Insttn office for schedules and brochures.
Current Principal of Bidhan Ch. Insttn, Sri A.N. Deb has a special message for us on this occasion.